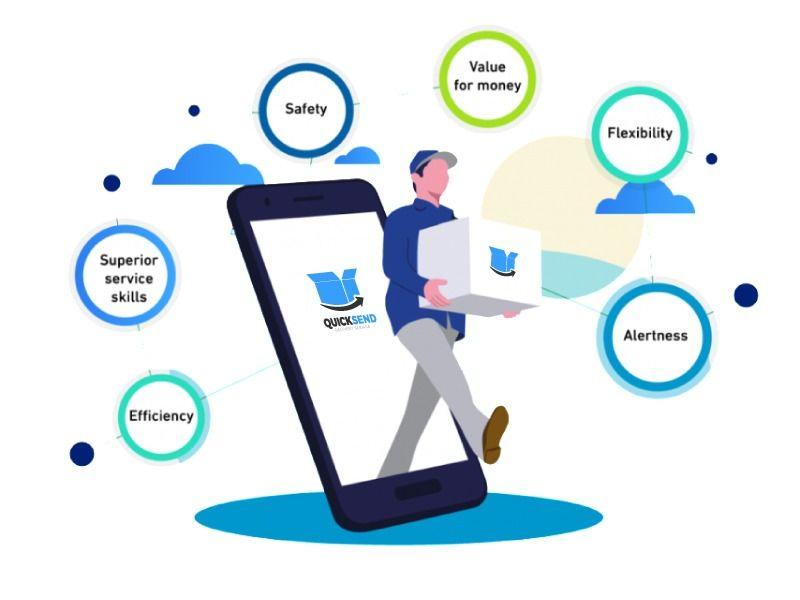 Quick Send was established in 2011. Ever since, it has become one of the pioneering logistics, E-commerce, Food Delivery and supply chain management company offering highly effective solutions across different locations in UAE.
Quick Send is customer-oriented company which tailor in order to meet the unique requirements of different customers.
This has been accomplished by learning the exact objectives of the customers regarding  their requirements, both internal and external, thus giving the assurance that the company will offer quality services in a more consistent way. Our tested and proven multimodal routes help us to deliver within timeframe.
As the chosen supplier for several high-profile companies as well as the initial point of contact in increasing efficient supply chain, we are very proud of our own reputation, striving hard to Maintain it.
Quick Send is also home to a team of skilled professionals who make sure, that follow-ups are being done on each Shipment managed. With our network we make it a goal to become the most reliable logistics company in the market, with a people-driven, inspired, and dedicated strategy when, it comes to serving our customers.
We have successfully introduced market leading express delivery and logistics services to Middle east. our breadth of services includes express courier delivery, logistics, supply chain management & e-commerce.
Our unique business model underlies all of the strategic decisions we make. It has proved highly successful, allowing Quick Send to swiftly adapt to challenging market conditions, execute last-mile delivery solutions and quickly respond to changing customer preferences.There are several things that we follow to meet our customers expectation:
It is with great pleasure that I welcome you to the Quick Send Delivery Services L.L.C website. Our goal is to build strong partnerships based on trust, ensuring safety, reliability & efficiency with customer focused mindset and finding innovative ways to provide great value to fulfil your needs.
Whether you are a potential customer with a challenging project ahead; an existing customer checking up on our latest news; or a partner, supplier or future employee looking for new opportunities, I trust you will find what you are looking for here.
We have a clear vision of what we want to be – Leader in courier & Logistic services In UAE.
Our progressive thinking and creative approach is what makes us stand out from the crowd.  I am proud of the work we do at Quick Send, adhering to the highest standards in conducting business, with a perfect safety record, rigorous management and constant search for improvement of performance. Enjoy our website and feel free to contact our office for any additional information.
Muhammad Nawaz
CEO/Co-Founder | Quick Send Delivery Services L.L.C
Position : 2011 – Present